InCeiling R26 Open Round (4 Pack)
InCeiling R26 Open Round (4 Pack)
Triad's entry-level ceiling speakers have a lot to offer at a reasonable price, both in performance and looks. The In-Ceiling R26 features a quality carbon fiber woofer and an adjustable and aimable tweeter for greater clarity at the listening position. The classic round shape grill is designer-friendly with a micro bezel. Square shape grill available for an additional fee.

The speaker can retrofit into an existing ceiling, and new construction brackets are also available. Installation is simple and straightforward. Custom paint matching is available from Triad, at a modest cost. For distributed audio installations where sound isolation is not an issue, Triad's new In-Ceiling R Series speakers deliver exceptional performance and value with an elegant, unobtrusive appearance.

Round white grills always ship with this speaker and are included in the box. When ordering painted and/or square grills, a second set of grills will be provided at an additional cost and can be custom painted at no cost to you. This additional set of grills will be shipped in their own box.

Triad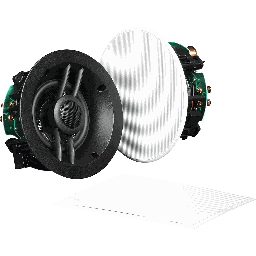 InCeiling R26 Open Round (4 Pack)