Sony® STR-ZA3000ES 7.2ch 4K AV Receiver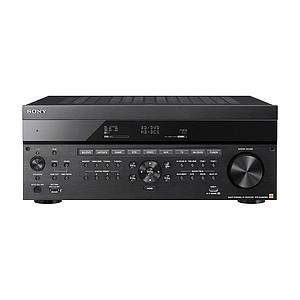 Sony® STR-ZA3000ES 7.2ch 4K AV Receiver
Beautiful seven-channel sound
With 110W per channel, the STR-ZA3000 delivers cinema-like surround sound and crystal clear music reproduction (110W @ 8 ohms, 1 kHz, 0.9% THD). For special installations, the amplifier can be configured to support: 2 pairs of speakers either independently (A or B) or simultaneously (A and B), in addition to Bi-Amp fashion.
Built for sound
Every detail from the removable aluminum faceplate, to electronic component selection, special 2nd generation ES solder, structural/chassis elements, and even screw placement has been scrutinized and tuned in the higher interest of reliably consistent sound performance.
8 High Definition inputs for system flexibility
Flexible HD connectivity with 8 assignable inputs (6 HDMI®, 2 component). HDCP 2.2 compliant this ES receiver also supports simple connectivity and full-playback of "4K Premium Content" with maximum visual and multi-channel sound quality.1 In addition the ZA3000ES allows full, native 4K video content pass-through to 4K capable televisions and projectors, and even up-scales high definition movies and TV shows to 4K quality.6
Optimized for custom in-home integration
Designed with the integrator in mind, Sony ES engineers took the class leading AVR GUI and tailored it for fluid integration into leading control systems using the front panel display or even web browser functionality. We've also redesigned the back panel layout to make wiring in a rack easier. Whether it's including an Install manual with a product manual or discrete IR codes in the remote, we've focused on helping you exceed your customers' expectations.
8-Port Audio grade Giga Ethernet Switch
An 8-Port Ethernet switch with PoE, Power over Ethernet functionality2 (2 outlets), Ideal for local interfacing to: leading control systems, computers, media boxes, Blu-Ray Disc™ players, and game consoles directly through the receiver.
USB Front Input
Using the front mounted USB, you can easily apply system updates and during setup, save all receiver settings to a flash drive for backing up and porting over to another unit to replicate settings.3
Web Browser configurable
View, program and edit receiver settings via your Web Browser, computer, smartphone, or tablet. Enter the following into your web browser*: "http://[receiver's ip-address]/". *- Most modern web browsers are supported.
Seamless IP Integration
With help from your authorized ES dealer/installer the full power of an ES receiver can easily integrated into expanded home automation including multi-zone audio, lighting and shades, security, appliances and almost anything else you can imagine. Control4® Certified and featuring Crestron Connected™, AMX Beacon, Savant, URC and RTI support, The STR-ZAX000ES also features12-volt triggers, RS232 and IR, for added installation flexibility.4
'PING' button
Easing the IP integration process is the addition of a 'PING' button on the front of the unit for quick access to unit-specific IP information (IP and MAC address) via the front display and also easy sharing of unit 'discovery' protocols with 3rd party CI controllers.
In-Ceiling speaker mode
Developed especially for use with in-ceiling speakers and easily configured during setup, In-Ceiling Speaker Mode virtually relocates the Front and Center in-ceiling speaker sound images to better coincide with the screen. Dialog and music will sound as if coming from the screen instead of the ceiling.
Flexible zone distribution
Flexible zone distribution capability allows a Z-Series receiver to distribute audio/video sources to the 1st and 2nd zones in varying configurations providing expanded options.
Discretion advised…
Enjoy enhanced system integration, with The supplied remote control, Call up Test Tones and Video signals at the push of a button. Access frequently used Menu settings, or take advantage of discrete IR codes to ensure that remote commands perform as advertised.
Full HDMI® color gamut support
With x.v.Color™ and Deep Color technology capability, you can rest assured that all HDMI® connected video sources will look their best, displaying nearly twice (1.8x) as many viewable colors as the existing RGB color standard.1
Only what's necessary…
A powerful catalog of playback CODECs: Digital Cinema Surround, Dolby®, dts® Digital Surround, and Neo:6 Cinema Audio Codec support ensure an optimized listening experience every time...
Advanced Digital Cinema Auto Calibration - Quick Speaker Set Up
A powerful integration tool, Advanced Digital Cinema Auto Calibration with Auto Phase Matching (APM) functionality ensures automatic, optimized audio output settings based on speaker distance and placement (microphone supplied).
Sony® ES 5-Year Limited Warranty
All ES-Series receivers come with an industry leading 5-year parts and labor warranty, 90-day advanced exchange program, and dedicated toll-free support line staffed by CEDIA-trained product experts. (1-877-619-7669; Monday – Friday 10am – 7pm ET).7
Requires HDMI® cable sold separately.
This receiver supports PoE Class 3.
May require additional accessories. Check with your authorized dealer for details.
Not all USB devices are compatible.
4K upscaling requires a 4K projector or 4K TV.
Requires capable HDTV, capable video source, and HDMI® cable sold sep.
For full terms and conditions please visit www.esupport.sony.com.

Sony
Sony® STR-ZA3000ES 7.2ch 4K AV Receiver