Strong™ 42U Rack Package (24 in. Deep)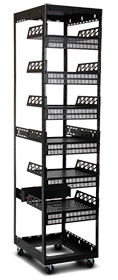 Strong™ 42U Rack Package (24 in. Deep)
SR-SKEL-42U-24IN-RPKG Rack Package
Ever ordered a rack only to find that you forgot screws, shelves, vents, power, or another important piece? This 24U package gives you fast, easy ordering – so you get the rack and a selection of our most popular accessories – all with just one click, and at a discount compared to a la carte pricing.
Kit Includes:
(1) SR-SKEL-42U-24IN
(6) SR-SHELF-FIXED-2U
(6) SR-VENT-2U
(1) SR-LACEBAR-H
(1) WB-400-CE-10
(1) SR-SCREWS-200JAR

Save time. Save money.
You barely have enough hours in the day as it is – why spend more time ordering products than you need to? This convenient rack package allows you to get all the parts and pieces you need with just one click – and at a discount.

Included Surge Protection
Get reliable, rack-mountable surge protection from the included WB-400-CE-10. It provides best-in-class surge protection of power, coax and telephone / Ethernet – plus noise filtration for improved audio and video performance. And its 10 outlets are located in the back of the rack…where you need them most.

Loading It Up
These Strong racks can hold up to 1000 lbs. of equipment with fine floor casters attached…so you can rest assured that it's tough enough to handle any job you throw at it.

Installer Friendly
Other installer-centric features include preinstalled rail studs, gangable side-by-side design, integrated slots and knockouts for wire management, even multiple holes on the rails for mounting accessories. And at a trim 19.05" wide, this rack goes where other so-called "slim" racks could stand to go on a diet.

"Rail Smart"
Have you ever gotten to the end of a rack build only to find that the last piece of gear was off by one "U"? (not that we've ever done that) Shuffling everything around to make it fit can be a real pain… That's why we silk screened the rails in both directions! So whether you're installing from the top down, on the front, or on the back, you'll always know the equipment is going into the right location.

Just Roll with It
Yep, we know that when you're placing orders in between jobs, at nights, on the weekends - and with a phone on your ear talking to a customer - it can be easy to overlook the little stuff. Thankfully our engineers didn't - so they included the all-too-forgotten fine-floor casters right in the box. This much love might be tough to accept at first - but we think you'll get used to it...

Strong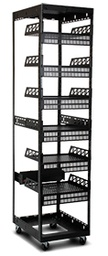 Strong™ 42U Rack Package (24 in. Deep)