Strong™ FS Series Rack System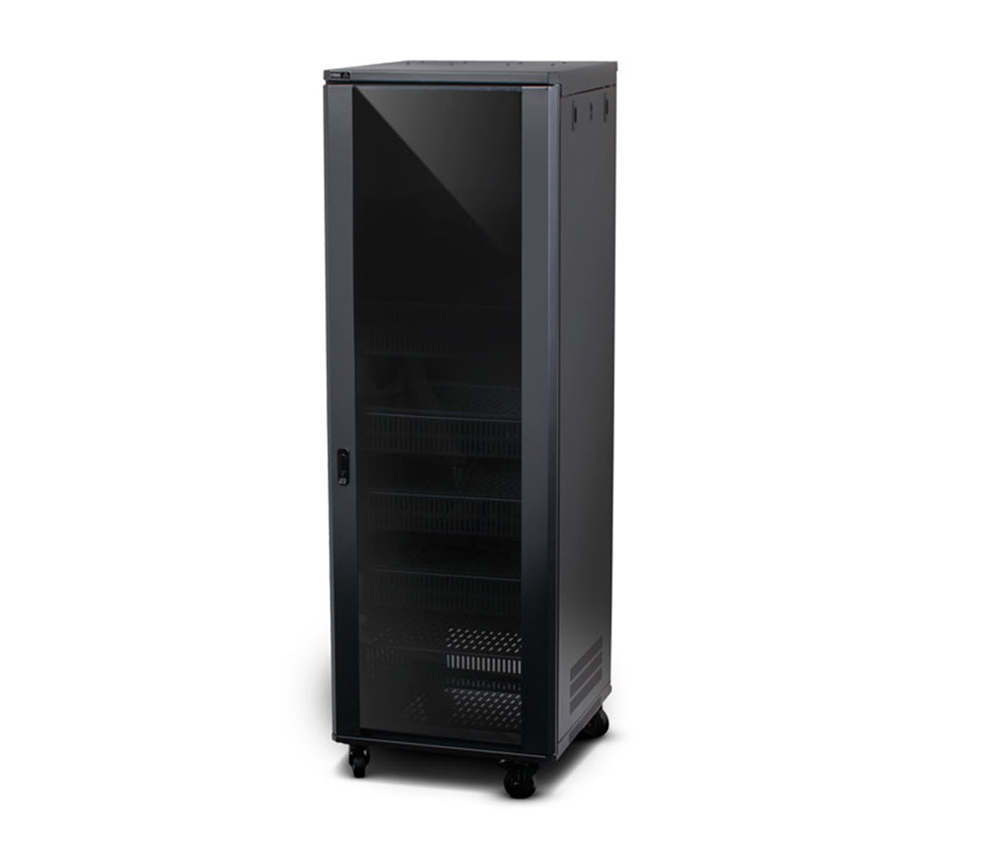 Strong™ FS Series Rack System
This Strong™ FS Series Rack System ships fully assembled with many of the most popular accessories preinstalled – including fans, vents, shelves, and side panels – so setup is fast and easy on the day of the job. Plus it's narrow enough to fit in tight spaces. It's a real beauty too, thanks to a smoked glass door and top-to-bottom powder coat finish. To top it all off, this rack keeps equipment cool and reliable with active cooling that features vents in the bottom and efficient, high flow fans in the top.

Strong Smarter by Design
Many competitive models are essentially a standard rack inside an outer shell, which makes them larger and heavier than they need to be. Our fully assembled rack system has been engineered from the ground up to be narrower and lighter – so it's easy to fit in closets or corners. Sharper Image
Forget big, bulky box models… this rack takes good looks to a whole new level, with a reversible smoked glass door and deep black powder coat finish from top to bottom – even on the low-profile casters. A tamper-resistant lock on the front and removable panels on the sides and back makes for easy servicing. Bent steel has never looked this good. Superb Ventilation
The key to a reliable install is maintaining a steady, cool temperature, so proper ventilation is a must. This rack is equipped with active cooling that includes vents on the bottom and AC fans on the top, allowing air to move up and out effectively. It's a smarter way to keep things cool, and it ensures your equipment functions properly. If you would rather use variable speed DC fans, the FS Series is completely compatible with our FK-120-2 DC Fan Kits. Knockouts

Once you have the components to go in the rack, wiring is a breeze. This rack features top knockouts for wires coming in from above, and a trunk line opening for those coming through the back panel. Plus you can fit one of our vertical power strips between the back rails and shelves without taking up valuable rack space.
Gets Low
Our new low-profile casters let this Strong Rack System glide under doorways with ease. It's also easy to place in a closet, so storing it is as simple as setting it up. The low-profile casters work great on most hardwoods, but note that softwood floors may incur marking.
Stronger to the Core
Peace of mind comes standard with our welded frame, which offers superior strength for gear protection. It's as tough as any rack out there and designed to last. By welding the rack frame, we've combined the strength of each component to create one cohesive unit that stands sturdy.
Saves Time
Because it arrives fully assembled, this rack system saves you serious time on the day of the install. Note that this product ships via freight (LTL), so please ensure you have arrangements made for the day of delivery.
Strong™ FS Series Rack System